Class of 2022 Graduate
Posted on 16/11/2022
On Friday 21 October 2022, Narrogin Senior High School Year 12 students gathered with staff, special guests, family and friends to celebrate the Class of 2022's achievements and accolades.
The keynote speaker former student, Caitlyn Rintoul spoke of her time at Narrogin Senior High School as a student and boarder at the Residential College and told of her journey to become a senior journalist with The West Australian and Chief of Staff at the Sunday Times. Caitlyn also shared the highs and lows of journalism with the students along with her recognition as the "Walkley Award" winner.
The evening featured several outstanding performances by Year 12 music student Charlotte Barrett and the School Band.
Top students in all courses and qualifications were congratulated, as well as community and school awards.
The Class of 2022 presentation evening ended with the valedictorian speech by Caitlin Pratt reminding the school community of the experiences that take place at school along with the preparation for life after school.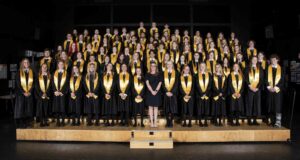 https://www.education.wa.edu.au/web/narroginresidentialcollege
Sponsors
A & A Corasaniti
Academic Group
Best Office Systems
Byfields Accountants
Cactus Hare
Corner's Automotive Electrics
Country Wide Insurance Brokers
County Women's Association – Nomans Lake
Earl Street Physiotherapy
Earl Street Surgery
Edwards Isuzu Ute
Elders
Family Eyecare
Farmworks
Halanson Earthmoving
Hancock's Home Hardware
Mr Brian Hehir
Holyoake Wheatbelt Community
Hon Darren West MLC
Hotham Trust
John Parry Medical Centre
Knightline Computers
Lane, Buck and Higgins
McWhirter & Leong
NAB Agribusiness
Narrogin Amcal Chemist
Narrogin Auto Centre
Narrogin Auto Electrics
Narrogin Bearing Service
Narrogin Carpet Court
Narrogin Chamber of Commerce
Narrogin Earthmoving & Concrete
Narrogin Fruit Market
Narrogin Guardian Pharmacy
Narrogin Packaging & Hire
Narrogin Lions
Narrogin Motel
Narrogin Technology Solutions
Nicholls Bus & Coach
Niks Electrical & Gas
Peter Rundle MLA
Rick Wilson MP
Royal Automobile Club of WA
RMS Bird Cameron
Hon Shelley Payne MLC
Shire of Cuballing
Shire of Narrogin
Three Farmers Quinoa