Canteen
The Narrogin Senior High School Parents and Citizens' Association operates the canteen which aims to provide lunches and snacks at sensible prices and make a reasonable profit which is used by the P & C for the benefit of the students.  The policy of the canteen is to supply food suitable for the growth and health of the students.
As well as lunches, buns, rolls, fresh fruit, milk and fruit drinks are available at recess and lunch time.
Lunch orders to be placed before school (between 8:30am and 8:45am)
Please check the Menu Board- weekly special offered on a Friday
A variety of rolls and sandwiches available every day
Salad boxes consisting of healthy choices for students
Pastry free days are on Tuesday & Thursday's
Menu and Prices are subject to change without notice
To download our Canteen 2023 menu please click on 2023 Canteen Menu
To view the NSHS Canteen Policy please click on NSHS Canteen Policy  and our Healthy Food and Drink Guidelines
The NSHS Canteen consists of Donna Penny, Kerry Rowe, Sarah Whiteford, Jeanette Jenner and Janet Hughes plus a group of daily rostered volunteers.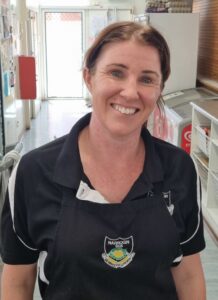 Canteen Manager – Donna Penny