NSHS P&C Open Day and Market Fair – Saturday 8 September
Posted on 12/6/2018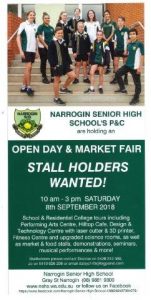 The NSHS P&C will be holding an Open Day and Market Fair at the High School.
Saturday 8 September, 2018
10 am – 3 pm
We would like to thank you for your previous support and invite you to participate again this year.
We are planning another fantastic day with stalls, displays, musical performances, seminars, open classrooms & much more!
Feel free to notify any friends, family or other businesses that you think may also be interested in coming along.
If you would like to register for a stall, please complete and return the forms (links below)
email to dalejo143@bigpond.com or mail to PO Box 185 Narrogin 6312.
For further information, please contact Jo on 0419 926 208 or Desiree on 0428 312 580
Stall Holder Registration Form